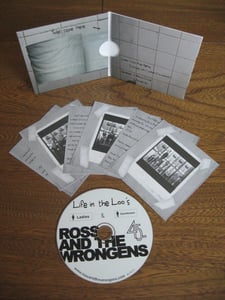 £

4.00
4 Track Compact Disc comes in a 350 gsm Gate Fold Sleeve with 6 Double Sided Inserts ( 4 lyric Cards, Thank You/Download Card and Wrongens Memories Card )
Their are Five Different Front and Back Cover to the Cd's , One by each band Member !
Choose which wrongen you'd like and we'll send you his cover !
All orders include the Full Ep as MP3 320 Plus 2 Bonus tracks; That Magic Feeling (Original), Summer Sun (Original) on Download.
Also you can get a personal message on the inside back cover of the sleeve from one or all of the band.
Let us know the band member and the message you'd like or leave it up to them to scribbler there own message to you.
Please note !! : this may take longer for delivery.
for P&P outside the UK please email us to discuss: [email protected]